Study compares AO and OCT biomarkers of rod-cone dystrophy progression
A longitudinal cohort study in rod-cone dystrophy (RCD) conducted by clinical researchers at the Lions Eye Institute in Perth, Australia, has compared biomarkers of disease progression measured with two different retinal imaging techniques: optical coherence tomography (OCT) and adaptive optics (AO) imaging.
"Parafoveal cone density should be considered as an endpoint in future natural history studies and clinical trials in retinitis pigmentosa."
The results were recently published in Translational Vision Science & Technology. Over a period of 6 months, the images captured using a rtx1 AO retinal camera revealed a significant reduction of 11% on average in parafoveal cone density, while no significant change was measured in OCT images over the same period of time.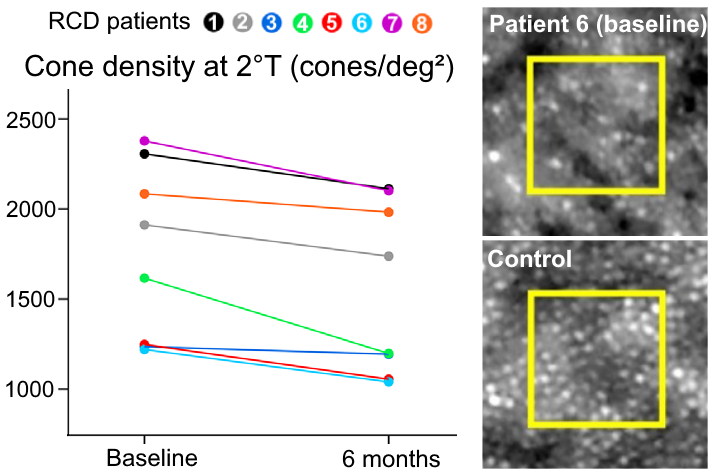 These findings advocate the implementation of AO retinal cameras and the introduction of highly-sensitive new endpoints in natural history studies and clinical trials in rod-cone dystrophies.
Article reference: Roshandel, D. et al. Short-Term Parafoveal Cone Loss Despite Preserved Ellipsoid Zone in Rod Cone Dystrophy. Trans. Vis. Sci. Tech. 10, 11 (2021). DOI: 10.1167/tvst.10.14.11
https://www.imagine-eyes.com/wp-content/uploads/logo.svg
0
0
contrib
https://www.imagine-eyes.com/wp-content/uploads/logo.svg
contrib
2022-01-10 16:49:36
2022-05-19 17:16:54
Study compares AO and OCT biomarkers of rod-cone dystrophy progression