Short-term assessment of photoreceptor rescue after gene therapy
Leber congenital amaurosis (LCA) has been the first inherited retinal disease with a gene therapy approved for clinical use. An article recently published in Acta Ophthalmologica reports on the short-term effects of this therapy.
The authors, a team led by Katarina Stingl at University of Tübingen, used an rtx1 adaptive optics camera to assess changes at the level of photoreceptor cells in the retina of a LCA patient after treatment.
"This case demonstrates a remarkable fast restoration of the central photoreceptors within only 5 weeks after treatment as documented by high-resolution imaging. The effect was still visible after 3 months."
Changes in the photoreceptor mosaic were observed several weeks before an improvement in visual acuity could be measured.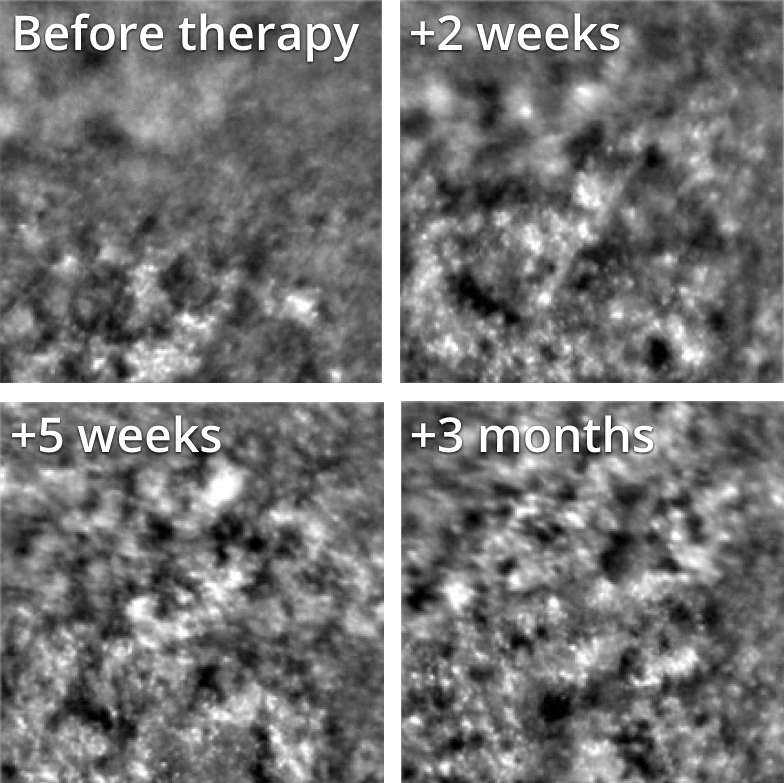 To learn more about these new findings, click here to visit the journal website or here to contact Imagine Eyes.
Learn more about rtx1 Adaptive Optics Retinal Camera
Article reference: Kortüm, F. C., et al. Short Term Morphological Rescue of the Fovea After Gene Therapy with Voretigene Neparvovec. Acta Ophthalmologica (2021) DOI:10.1111/aos.14990
https://www.imagine-eyes.com/wp-content/uploads/logo.svg
0
0
contrib
https://www.imagine-eyes.com/wp-content/uploads/logo.svg
contrib
2021-08-31 16:33:29
2022-05-19 17:17:51
Short-term assessment of photoreceptor rescue after gene therapy