Retinal adaptive optics imaging goes multimodal
A publication in Nature Scientific Reports introduces a technology that delivers large-field views of the retina with multiple imaging modalities, as well as close-up visualizations with 3-D cellular resolution.
The technology combines adaptive optics (AO) with scanning laser ophthalmoscopy (SLO), optical coherence tomography (OCT), and OCT angiography (OCT-A), integrated in a compact device.
"In addition to multimodal retinal exams, this device allows us to see how lesions develop at the cellular scale. It is an extraordinary tool for understanding disease mechanisms and developing new therapies." says Prof. Michael Larsen, ophthalmologist at Copenhagen University Rigshospitalet.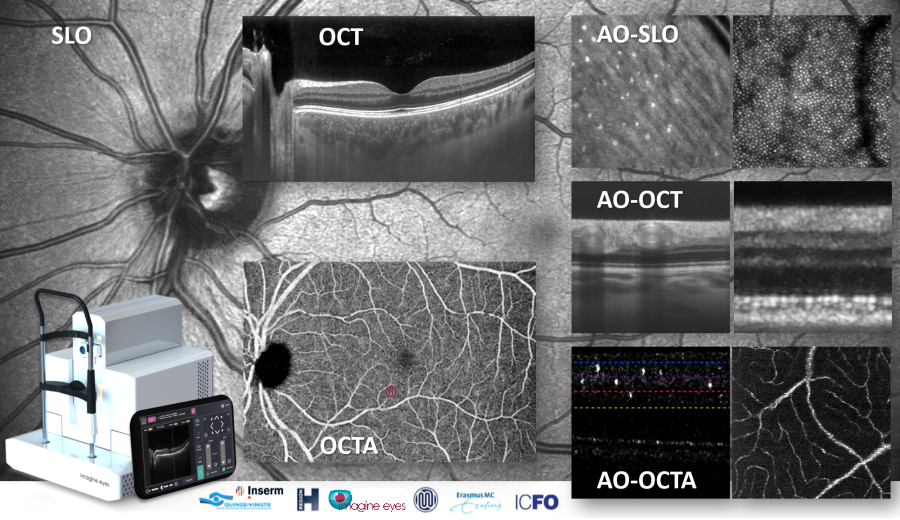 "I am thrilled by the near-histological resolution of this new technology. Beyond revealing the effects of diseases and treatments on retinal cells, there is also a huge potential for precision assessments of retinal circulation." says Prof. Michel Paques, ophthalmologist at Paris Quinze-Vingts Hospital.
It results from a joint effort of Imagine Eyes, 3 academic groups and 2 clinical centers. The consortium, led by Imagine Eyes, was funded by the European Commission to advance retinal imaging instrumentation and address unmet needs in ophthalmology.
Article reference: Shirazi, M. F., Andilla, J., Lefaudeux, N. et al. (2022). Multi-modal and multi-scale clinical retinal imaging system with pupil and retinal tracking. Scientific Reports, 12(1), 9577. https://doi.org/10.1038/s41598-022-13631-1
The MERLIN project has received € 4.868M in funding from the European Union's Horizon 2020 research and innovation program, under grant agreement No 780989.

https://www.imagine-eyes.com/wp-content/uploads/logo.svg
0
0
contrib
https://www.imagine-eyes.com/wp-content/uploads/logo.svg
contrib
2022-06-30 19:26:01
2022-06-30 19:26:01
Retinal adaptive optics imaging goes multimodal