Progression of retinitis pigmentosa assessed at the cellular scale
Recently published in the Japanese Journal of Ophthalmology, a study demonstrated a new technique for assessing the progression of late-stage retinitis pigmentosa (RP) at the microscopic scale.
The authors, a team led by Prof. Hiroko Terasaki at Nagoya University Hospital, used an rtx1™ Adaptive Optics Retinal Camera to examine the retinas of advanced RP patients over several years.
"Monitoring the fine retinal structures and the cone mosaics by AO fundus imaging could provide further prognostic implications and can be used for the evaluation of new therapeutic applications."
Dr. Shinji Ueno and co-authors, Nagoya University Hospital
They observed clearly demarcated central areas of surviving photoreceptors. Longitudinal analysis revealed a steady decrease of these spared areas over time, even when visual acuity remained stable.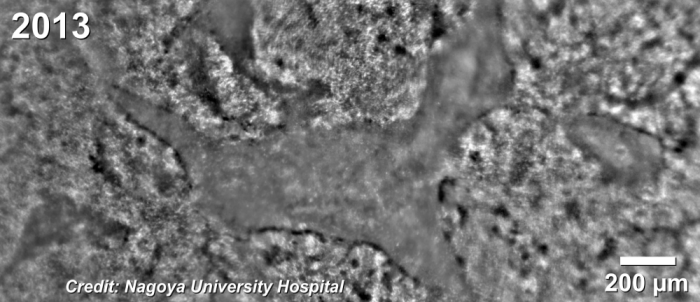 To learn more about these new findings, go to the journal website here, or contact Imagine Eyes here.
Article reference : Ueno, S. et al. Clinical Characteristics and High Resolution Retinal Imaging of Retinitis Pigmentosa Caused by RP1 Gene Variants. Jpn J Ophthalmol (2020) doi:10.1007/s10384-020-00752-1
https://www.imagine-eyes.com/wp-content/uploads/logo.svg
0
0
contrib
https://www.imagine-eyes.com/wp-content/uploads/logo.svg
contrib
2020-08-20 02:31:57
2020-09-03 09:01:43
Progression of retinitis pigmentosa assessed at the cellular scale