Webinar: AO for fighting IRDs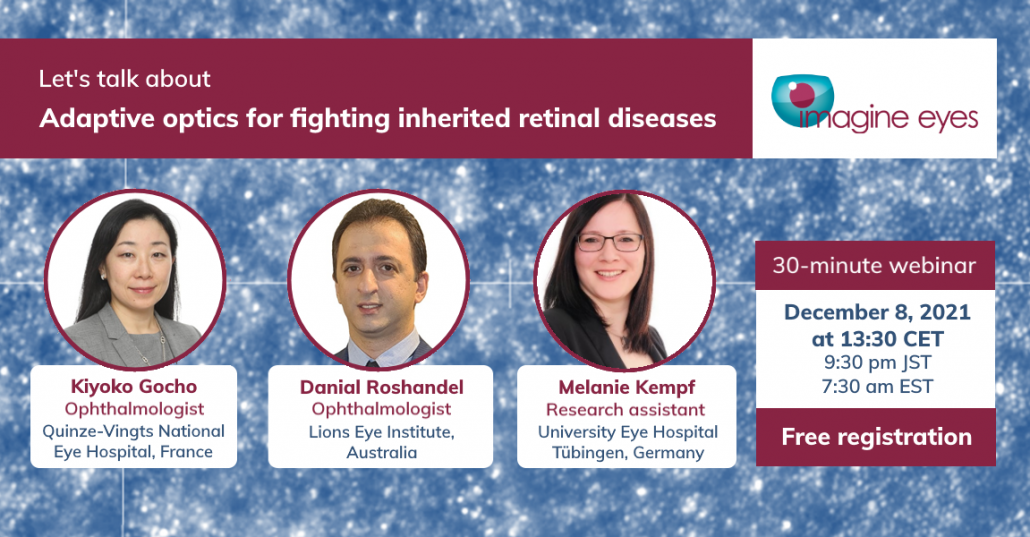 Registration to this webinar is now closed.
In this roundtable discussion, 3 clinical experts shared their experience and vision about the use of adaptive optics (AO) in inherited retinal diseases (IRDs).
They brought knowledge acquired at leading ophthalmology centers, that have used rtx1 AO cameras in IRD patients for over 5 years.
About our guests
Kiyoko Gocho, MD-PhD, currently works as a researcher at CIC1423 Inserm & Quinze-Vingts National Eye Hospital in Paris, visiting associate professor of ophthalmology at the Nippon Medical School in Japan, and visiting ophthalmologist in Kobe Eye Center. She has dedicated her research to translating new ultrahigh-resolution retinal imaging techniques from laboratory inception to clinical adoption. Her ambition is to contribute improvements in both the prevention of diseases and the personalization of therapies.
Danial Roshandel, MD,  is a clinician/researcher in ophthalmology with special interest in genetic eye diseases. He was trained in ocular surface disorders at Shahid Beheshti University of Medical Sciences (Tehran, Iran) and collaborated in several research projects on limbal stem cell transplantation. His current research project at The University of Western Australia and The Lions Eye Institute is exploring functional and structural trial endpoints (including adaptive optics imaging) for monitoring disease progression in retinitis pigmentosa.
Melanie Kempf, MSc, graduated with a Master of Science in Ophthalmic Optics and Psychophysics at the University of Aalen. For her master thesis, she worked on the photopic negative response in Leber's hereditary optic neuropathy and in autosomal-dominant optic atrophy, at the clinics for hereditary retinal diseases of the University Eye Hospital in Tübingen. Since 2017, her work as a research assistant has been focused on adaptive optics retinal imaging and hereditary retinal degenerations, including retinitis pigmentosa, Stargardt, and LCA.
https://www.imagine-eyes.com/wp-content/uploads/banner-IRDs-highlight-image-1.png
500
1691
contrib
https://www.imagine-eyes.com/wp-content/uploads/logo.svg
contrib
2021-11-08 18:15:37
2023-08-01 16:31:21
Webinar: AO for fighting IRDs