rtx1™ Adaptive Optics Retinal Camera
World's first clinical retinal imaging microscope
The rtx1™ enables visualizing the living retina at the microscopic scale. While the optical resolution of every other retinal imaging technique is limited to 15-20 µm, the rtx1's exceptional resolving power allows to examine details of a few microns in size. Images acquired with the rtx1 reveal previously invisible retinal structures, which are highly relevant to multiple pathological conditions.
Click here to read more about clinical retinal microscopy, and click here to find a list of publications.
Previously unseen retinal structures, now visible with the rtx1
The rtx1 enables examining the following microscopic structures:
Extrafoveolar cone photoreceptors
Arteriolar structure: lumen and wall
Thin borders of macular lesions
Pores of the lamina cribrosa
Microaneurisms and microscopic hemorrhages
Microcystic edema
Additionally the rtx1-e version provides an easy access to the following structures:
Pores of the lamina cribrosa
Lumen and wall structure of main arterioles
Nerve fiber bundles at the disc edge
Click here to visit the image gallery, and click here to see case reports from rtx1 users.
Adaptive optics imaging made simple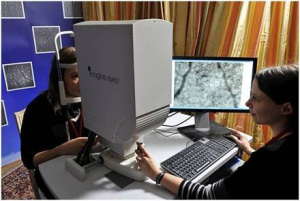 Imagine Eyes has designed the rtx1 in close collaboration with clinicians. This joint effort has resulted in the most easy-to-use adaptive optics instrument ever built.
The device is quickly aligned with the patient's eye thanks to high-quality positioning mechanics and live visualization of the eye's pupil. The patient's comfort is guaranteed by a fast imaging process under low-power infrared illumination. Image acquisition, recording and review are easily operated through clinician-friendly software applications. Click here to read more about adaptive optics technology.
Software applications for the rtx1
AOimage™ provides an easy interface to acquire and manage the most detailed views of the retina, while operating the adaptive optics correction system in a fully automated way. Read more...
AOdetect mosaic™ (optional, for research use only) enables analyzing the cone photoreceptor cell mosaic with a selection of quantitative metrics. Read more…
i2k retina™ (optional, for research use only) is the perfect tool for stitching multiple rtx1 images together. Read more…
The rtx1 is an approved medical device in the European Union (CE mark, class 2a device) and in Japan. In the USA, the rtx1 has not received FDA clearance. It is an investigational device and requires Institutional Review Board (IRB) oversight for use in any research application. Further information should be read in the user documentation.
Testimonials
For the first time, adaptive optics enables us to visualize retinal neurons –the photoreceptors- and offers totally new options to evaluate retinal therapies. Pr. José Sahel, Hôpital des Quinze-Vingts, Paris
As much as OCT, Imagine Eyes' technology is a major breakthrough in retinal diagnostics. Pr. Wolfgang Drexler, Medical University Vienna
Retinal images acquired with Imagine Eyes' instrument are the most promising things that I have seen at the American Academy of Ophthalmology this year. Dr. Ben Szirth, New Jersey Medical School, USA
We no more can  imagine further  progress in the knowledge and treatment of retinal diseases without  the cellular and micro-vascular  imaging  technique developed by Imagine Eyes. Pr. Philippe Sourdille, Sourdille Ophthalmology Clinic, Nantes, France 
Contact