Great presentations at the AO-Vision symposium !
Last week, clinical experts adressed the current challenges in the management of inherited retinal diseases (IRDs), and opportunities enabled by adaptive optics (AO) retinal imaging.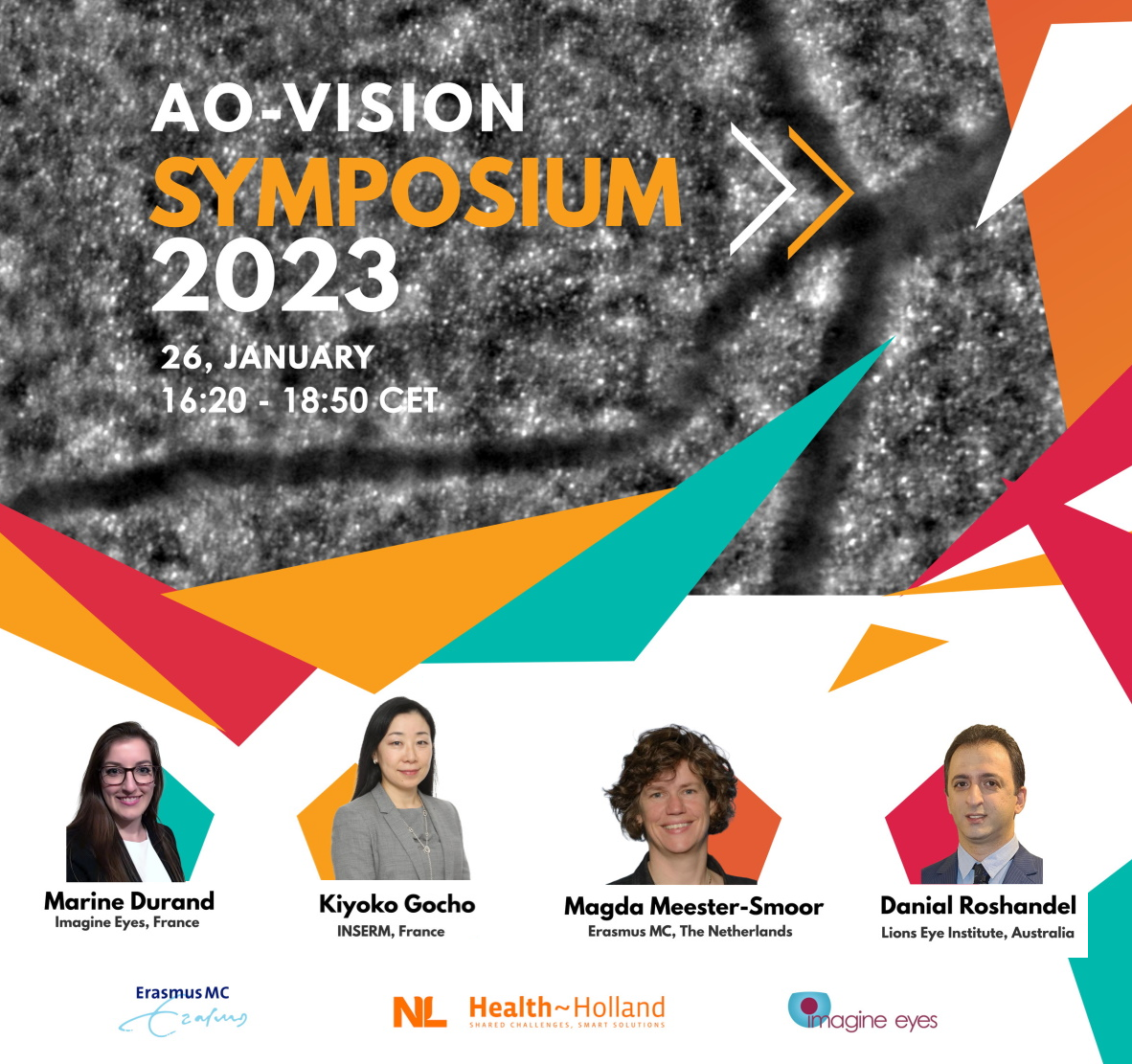 In this symposium led by the AO-Vision project team at Erasmus Medical Center, Rotterdam, Imagine Eyes introduced the rtx1 AO camera and its current use in ophthalmology research centers. Then, 3 clinical experts shared their experience and vision specifically about IRDs.
Prof. Kiyoko Gocho (INSERM, Paris and Nippon Medical School, Tokyo) presented emerging medical applications of AO imaging, from studies conducted in Japan. On various IRDs, rtx1 provided phenotype information at the cellular scale and quantification of early alterations, which could lead to earlier diagnosis and enable personalized therapies. Also, a study on asymptomatic carriers of X-Linked choroideremia showed that AO imaging could be helpful to define suitable endpoints for clinical trials of novel therapies.

Prof. Caroline Klaver and Dr. Magda Maester-Smoor (Erasmus MC, Rotterdam) presented the IRD5000 database, a registry that  facilitates clinical, genetic and therapeutic studies on IRDs in the Netherlands. They showed its potential to grow into a European standard for the registration of data, and further accelerate research in IRDs. 

Dr. Danial Roshandel (Lions Eye Institute, Perth) shared about methods for investigating photoreceptor degeneration in retinitis pigmentosa (RP) with the rtx1 camera. He presented results obtained in Australia, notably the identification of distinct phenotypes and the quantification of disease progression over shorter timescales, that were not detected by OCT and other conventional examinations.
Imagine Eyes, as a partner in the AO-vision project, works with Erasmus MC to develop novel AO biomarkers of IRD progression from rtx1 images. The project, supported by Health-Holland, aims at establishing relevant, validated protocols and biomarkers, to contribute in accelerating the clinical validation of therapies for IRDs.
https://www.imagine-eyes.com/wp-content/uploads/logo.svg
0
0
contrib
https://www.imagine-eyes.com/wp-content/uploads/logo.svg
contrib
2023-01-27 20:04:30
2023-02-01 20:08:23
Great presentations at the AO-Vision symposium !