The 2018 congress of the European Association for Vision and Eye Research will feature a symposium fully dedicated to Adaptive Optics retinal imaging. On October 5th, in Nice, France, a panel of experts will present about cellular resolution retinal imaging such as with the rtx1 AO retinal camera. They will show how it has brought new relevant insights into the retina, in various diseases and treatments.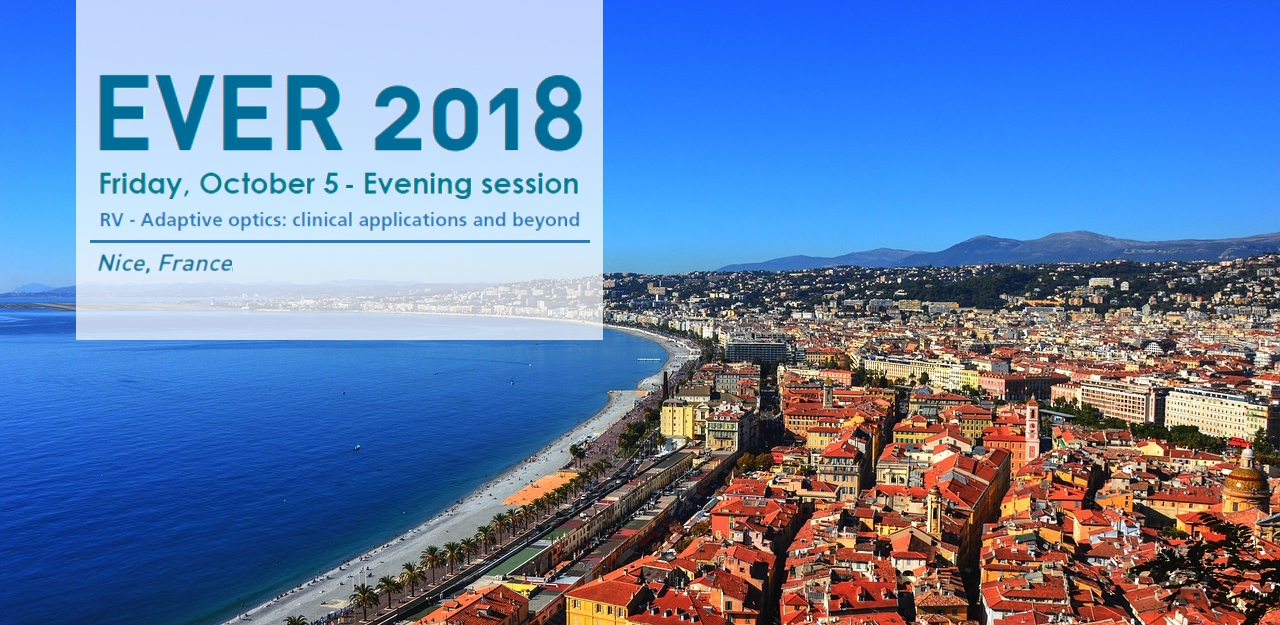 EVER 2018 – Special Interest Symposium information :
RV – Adaptive optics: clinical applications and beyond
Friday, October 5th, 18:00 – 19:15
Moderators : Pr. Michel Paques, Dr. Kate Grieve (France)
Presentations :
2911: Clinical use of flood-illumination adaptive optics fundus camera ophthalmoscopy. Presenter: Michel PAQUES, France
2912: Structural and functional imaging of ocular tissues with full-field OCT. Presenter: Kate GRIEVE, France
2913: Adaptive optics scanning laser ophthalmoscopy: clinical applications. Presenter: David MERINO, Spain
2914: Adaptive optics in the eye as window to brain function. Presenter: Adam DUBIS, United Kingdom

2915: High speed adaptive optics angiography. Presenter: Serge MEIMON, France

2916: Adaptive Optics for inherited retinal disease clinical trials. Presenter: Mariya MOOSAJEE, United Kingdom

2917: Infrared autofluorescence in adaptive optics ophthalmoscopy for imaging retinal pigment epithelial cells in health and disease. Presenter: Ethan A. ROSSI, United States
This symposium happens just a few days before the first  Autumn Course on Adaptive Optics, that will be held in Paris on Oct 8th-9th.
Find more information on EVER 2018 
here
.
https://www.imagine-eyes.com/wp-content/uploads/logo.svg
0
0
48design
https://www.imagine-eyes.com/wp-content/uploads/logo.svg
48design
2018-10-03 12:17:18
2018-11-26 10:21:30
Clinical use of AO retinal imaging: Symposium at EVER 2018