Meet Imagine Eyes at the 5th annual autumn course on innovative imaging of eye disease – i2Eye 2022 – organized by PARIS Eye Imaging group. It will take place in Paris on October 5-7 2022, in a hybrid format.
In this 3-day meeting, experts in ophthalmology, physics, biology, and image processing will address the latest advances in ocular imaging, how they help understand diseases and improve clinical care. The program will also feature live visits of clinical research facilites, with demonstration of imaging devices, including Imagine Eyes' rtx1 AO retinal camera.
Invited speakers: Rigmor Baraas (University of South-Eastern Norway), Rainer Leitgeb (University of Vienna), Olivier Goureau (Institut de la Vision), Gereon Hüttman (University of Lubeck), and Jessica Morgan (University of Pennsylvania).
Organizing commitee: Kate Grieve (Institut de la Vision), Ethan Rossi (University of Pittsburgh), Michel Paques (Quinze-Vingts National Eye Hospital), Pedro Mecê (ONERA), Olivier Thouvenin (Institut Langevin), and Kiyoko Gocho (Institut de la Vision).
On-site and online registration are free of charge. Online participants will be able to join virtually for the sessions of talks.
To register, to submit a poster (for day 1) or to submit a clinical case (for day 2), click the button below:
i2Eye 2022 program highlights on Imagine Eyes' retinal imaging solutions
Day 1 – Wednesday October 5
In Session 1: Novel technology
15:00-15:20 – Multimodal and multiscale clinical high-resolution retinal imaging
Kiyoko Gocho, C. Chaumette, K. Grieve, N. Lefaudeux, M. Cor, M. Durand, X. Levecq, N. Chateau, M. Pircher, M. Paques
In Session 2: Histology, Organoids and Disease Models.
17:50-18:10 – Comparing clinical features with histology
Michel Paques, A. Verschueren, M. Darche
Day 2 – Thursday October 6
In the visits of Paris Eye Imaging facilities:
Live demonstrations of rtx1 and other retinal imaging devices
by users from the Paris Eye Imaging clinical research team
Afternoon:
18:10-18:30 – Clinical case share
5 minute slots to show and discuss your clinical cases and questions about high-resolution imaging technology – open floor, all welcome!
Day 3 – Friday October 7

In the visits of Paris Eye Imaging facilities:
Live demonstrations of rtx1 and other retinal imaging devices
by users from the Paris Eye Imaging clinical research team
In Session 5: Retinal cellular biomarkers
14:30-14:50 – Physiopathology of dry AMD: deciphering the cellular dynamics underlying progression of atrophy
Ysé Borella, A. Verschueren, M. Darche, K. Grieve, F. Sennlaub, N. Norberg, J. Gautier, E. Rossi, J.-A. Sahel, F. Rossant, C. Chaumette, M. Paques
14:50-15:10 – Loss of cone outer-segments in multiple sclerosis: The Belfast Eye and Multiple Sclerosis Study
Gemma McIlwaine, L. Csincsik, R. Coey, L. Wang, D. Fitzgerald, J. Moffat, G. McDonnell, S. Hughes, A. Dubis, T. Peto, I. Lengyel
15:10-15:30 – Revealing cells in the retina with "transmission" microscopy in vivo
Elena Gofas, N. Norberg, M.l Paques, K. Grieve
15:50-16:10 Adaptive Optics in Non-Human Primates: normal and induced pathological findings
Alexandre Dentel, C. Jaillard, K. Grieve, M. Paques, S. Bertin, E. Brazhnikova, V. Fradot, S. Picaud
In Session 6: Blood Flow and Vasculature
17:20-17:40 – Topology and longitudinal morphometry of perifoveal capillaries in healthy eyes using multimodal high-resolution imaging
Sophie Bonnin, N. Norberg, E. Gofas, C. Chaumette, A. Couturier, K. Grieve, M. Paques
17:40-18:00 – Analysis of the changes in retinal vessels in diabetes, arterial hypertension and atrial fibrillation using adaptive optics
Anna Zaleska-Zmijewska
See the full program & access the registration form on i2EYE 2022 event page: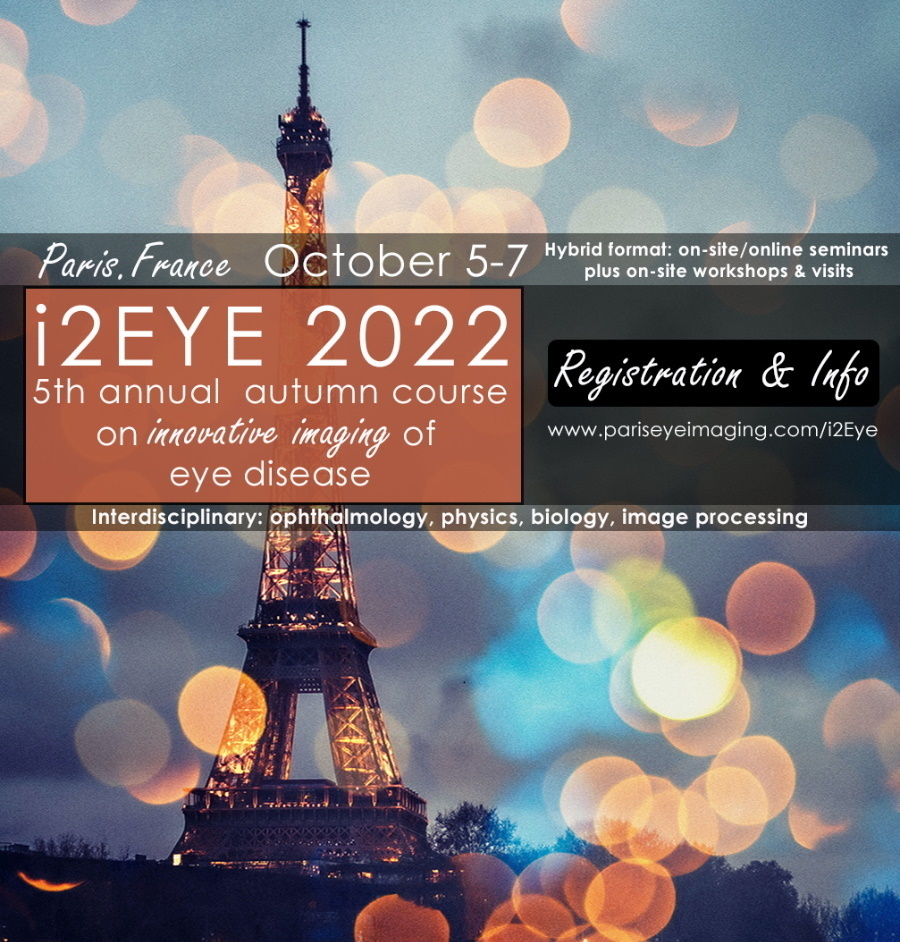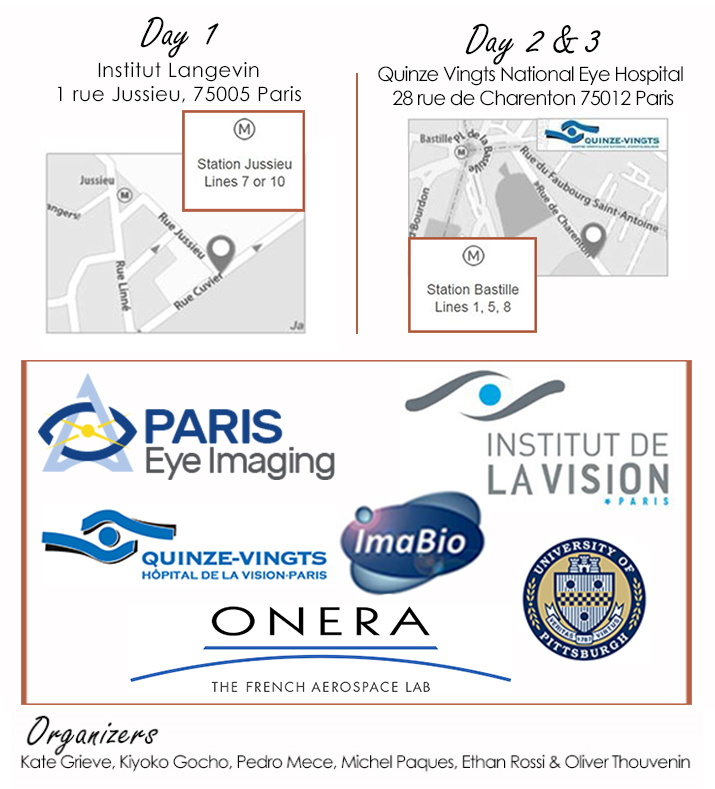 https://www.imagine-eyes.com/wp-content/uploads/i2Eyemeeting_2022_bannerhor1c.png
350
1413
contrib
https://www.imagine-eyes.com/wp-content/uploads/logo.svg
contrib
2022-06-30 19:43:48
2022-10-13 12:01:02
i2Eye 2022