AOimage™ for rtx1™
Adaptive optics imaging easier than ever
The AOimage™ software has been designed in collaboration with ophthalmologists and retinal photographers to provide the most intuitive interface to the rtx1™ Adaptive Optics Retinal Camera.
With AOimage, ultrahigh-resolution retinal images are acquired through a fast and easy procedure. As the adaptive optics system and image processing algorithms operate in a totally automated way, the user's attention is only required to align the device and capture the images. AOimage also includes a complete and straightforward viewer interface for examining, comparing and exporting images.
NEW! Imagine Eyes keeps upgrading AOimage. The most recent addition is a follow-up functionality that makes it very easy to image a same portion of the retina on different visits.
Easy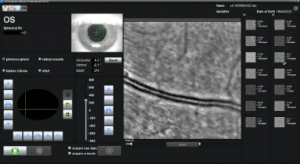 Intuitive graphic user interface
Simple control of localization, focusing and image capture
Multiple selectable fixation target patterns
Dark window background compatible with dim light conditions
Fast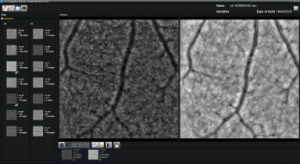 Fully automated AO operation
Multithread image processing
Handy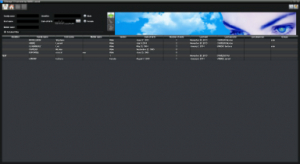 Follow-up functionality
Network-compatible database
Remote access viewer (option)
Export to multiple image formats including PNG and DICOM
Click here to see a gallery of images acquired using AOimage with the rtx1, and click here to read more about clinical retinal microscopy.
The AOimage software is included in the rtx1 product. The rtx1 is an approved medical device in the European Union (CE 0459 from G-MED, class 2a device), in Japan (Shonin) and in Australia (ARTC approval). In the USA, the rtx1 has not received FDA clearance. It is an investigational device and requires Institutional Review Board (IRB) oversight for use in any research application. Further information should be read in the user documentation.
Testimonials
For the first time, adaptive optics enables us to visualize retinal neurons –the photoreceptors- and offers totally new options to evaluate retinal therapies. Pr. José Sahel, Hôpital des Quinze-Vingts, Paris 
As much as OCT, Imagine Eyes' technology is a major breakthrough in retinal diagnostics. Pr. Wolfgang Drexler, Medical University Vienna 
Retinal images acquired with Imagine Eyes' instrument are the most promising things that I have seen at the American Academy of Ophthalmology this year. Dr. Ben Szirth, New Jersey Medical School, USA 
We no more can  imagine further  progress in the knowledge and treatment of retinal diseases without  the cellular and micro-vascular  imaging  technique developed by Imagine Eyes. Pr. Philippe Sourdille, Sourdille Ophthalmology Clinic, Nantes, France 
Contact