Ultrahigh-resolution retinal imaging
Why is it needed?
A number of ophthalmic and general diseases begin with microscopic alterations in the retina, prior to causing more serious lesions. Unfortunately, such small signs of pathology have remained unseen by doctors because of limitations in the optical resolution of retinal imaging techniques. As a consequence, diseases are often detected at rather late stages, after they have caused irreversible damage.
Additionally, when a therapy is prescribed to a patient, it can take months before finding out if the treatment is effective. This is also because microscopic signs of disease progression are not detected by conventional diagnostic techniques. Clinical retinal microscopy can thus help detect diseases earlier, better monitor progression, and better adapt treatments.
Click here to find a list of publications.
A clear window to neural and microcirculatory systems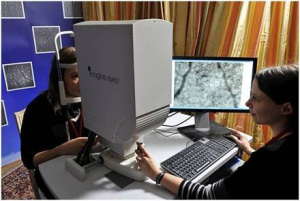 With Imagine Eyes®' adaptive optics technology, retinal microscopy has become available to clinicians. This quantum leap forward in medical imaging enables examining microscopic detail in living retinas, including cellular and micro-vascular structures. In other words, the eye has become a clear window to a direct extension of the brain and to the microcirculatory system.
Click here to see case reports, and click here to visit the image gallery.
Track diseases at the cellular and micro-vascular levels
Clinical retinal microscopy enables significant advances in preventative and individualized medicine. Its superior imaging performance provides deeper insight in several ophthalmic pathological conditions including inherited retinal dystrophies, geographic atrophy in AMD, glaucoma, drug-induced retinal toxicity, and retinal vasculitis. Beyond ophthalmology, retinal microscopy also delivers information of clinical value in chronic conditions such as diabetes and arterial hypertension.
Click here to find a list of publications, and click here to see case reports.
Click here to discover the rtx1™ Adaptive Optics Retinal Camera.
Testimonials
For the first time, adaptive optics enables us to visualize retinal neurons –the photoreceptors- and offers totally new options to evaluate retinal therapies. Pr. José Sahel, Hôpital des Quinze-Vingts, Paris 
As much as OCT, Imagine Eyes' technology is a major breakthrough in retinal diagnostics. Pr. Wolfgang Drexler, Medical University Vienna 
Retinal images acquired with Imagine Eyes' instrument are the most promising things that I have seen at the American Academy of Ophthalmology this year. Dr. Ben Szirth, New Jersey Medical School, USA 
We no more can  imagine further  progress in the knowledge and treatment of retinal diseases without  the cellular and micro-vascular  imaging  technique developed by Imagine Eyes. Pr. Philippe Sourdille, Sourdille Ophthalmology Clinic, Nantes, France 
Contact